REPLACE BUBBLE CAP TRAYS TO INSTANTLY BOOST THROUGHPUT BY UP TO 4 TIMES

AND

IMPROVE THE DEWPOINT!
For retrofit or new installations, the Highspeed Axial Swirl Tube will enable significant production increase or reduced vessel size and weight to be achieved, whilst reducing the dew point, carryover and foam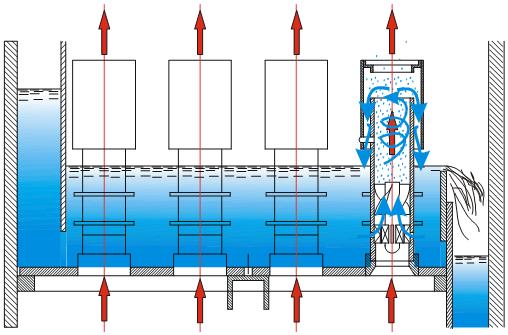 Typically 2/3 of the diameter of a Structured Packing column

Typically 2/3 the height of a Structured Packing column

Major savings in column weight and cost

Elements available in stainless steel or lightweight plastics

Tolerates solids; motion; cures foaming

Maximum liquid load of up to 100 m3/m2 h

This tray can also be used as a high performance mist eliminator
Although similar in style to the Shell/Sulzer Swirltube, the Highspeed™ Swirltube differs in two key areas:
The main inlet swirler is designed for higher velocities with a lower angle of attack on the swirler blades. This gives a higher capacity for the body size and lower pressure drop.  The unique inlet guide vanes aligned parallel to the initial gas flow provides a dispersing/atomising pre-mix region that gives better mass transfer than the Shell system where liquid is introduced into an already spinning gas zone.
The spun-off liquid droplets that are flung to the tube walls are separated using an unbridgeable circumferential gap rather than a series or longitudinal slits which can be breached. This gives superior separation efficiency and reduced carryover, eliminating the need for a secondary mesh pad as is commonly found with the competing systems.
Download the latest product literature here…
Schematic of a standard TEG Glycol Dehydration Plant